LipovitanD Challenge Cup 2014 <JAPAN(JAPAN XV) vs Maori All Blacks>
【Match 1】November 1, 2014 (Sat.) 14:00~
・Noevier Stadium, Kobe (5 minutes walk from Misakikoen station onthe Subway Kaigan Line Yume-Kamome)

【Match 2】November 8, 2014 (Sat.) 14:00~
・Prince Chichibu Memorial Rugby Stadium, Tokyo (5 minutes walk from Gaienmae station onthe Tokyo Subway Ginza Line)

Notice:
Reserved seats for the Japan vs Maori All Blacks match (previously allocated for overseas sales) will be resold starting Oct 18.
Please confirm the available ticket category upon purchase. (resale will be terminated as soon as the scheduled quantity is consumed)

▼Ticket Sales Schedule
General Availability
September 6, 2014 (Sat.) 10:00(GMT+9) -
*Please pick up the purchased tickets using the Automatic Ticket Machine located at Noevier Stadium or Prince Chichibu Memorial Rugby Ground.
Items necessary for picking up your tickets
1) Print-out of ticket's purchase confirmation or the credit card used for the booking
*One of the above is MANDATORY in order to issue the ticket. NO TICKETS WILL BE ISSUED WITHOUT THE REFERENCE NUMBER.
2) Passport or other forms of photo ID
・Please note that the only person who made the reservation can receive the tickets. Make sure you bring the documents above.
・Please contact JRFU if you have any questions on picking up your ticket.
*Service fee of JPY540 will be incurred for each ticket.

▼Ticket Information
Ticket Categories
Price(Tax include)
Advance
Match Day
VIP(Reserved Seat)
JPY 10,000
SS(Reserved Seat)
JPY 6,500
JPY 7,000
S(Reserved Seat)
JPY 5,500
JPY 6,000
S Child(Reserved Seat)
JPY 3,000
-
A(Reserved Seat)
JPY 4,000
JPY 4,500
General(Non-Reserved Seat)
JPY 2,000
JPY 2,500
General Child(Non-Reserved Seat)
JPY 500
JPY 800
▼Noevier Stadium, Kobe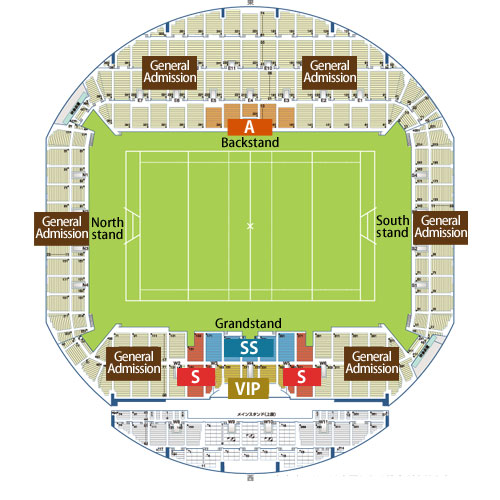 ▼Prince Chichibu Memorial Rugby Stadium, Tokyo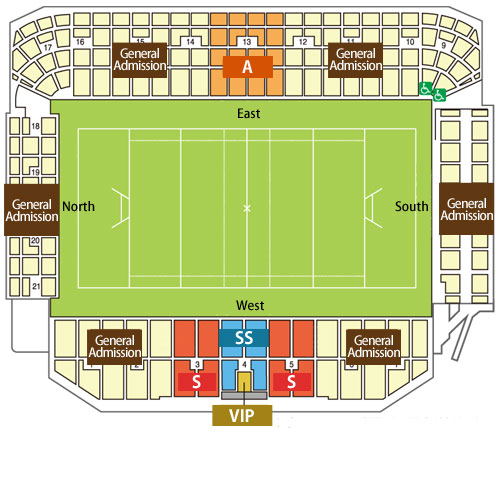 Reminders
* All ticket prices are VAT inclusive.
* Re-entry is free of charge.
* For reserved seats, children 4 years of age and older are required to purchase tickets.
 Children Reserved Seat prices apply up to high school students.
 Infants younger than 4 years of age sitting on the knee are free admission (one infant per one adult).
 They are required to purhase Children Reserved Seat tickets only when they occupy their own seats.
* Free admission applies to pre-school children for the general admission seats.
* Wheel chair seats customers are required to purchase general admission tickets to enter the stadium.
 Ticket for the escort (limited to one person) is free of charge.
* In case tickets are sold out in advance sales, no ticket will be sold at the gate on the match day.
* Under any circumstance tickets purchased are non-refundable and/or non-changeable except in case of the abandoned match.
* Invitational tickets issued by JRFU Members Club will not be accepted for this match.
* No parking facilities are available at Prince Chichibu. We strongly recommend the use of the public transportation system en route to the stadium.

▼ Inquiries about the tickets
Ticket office, Japan Rugby Football Union:
Tel: +813-3401-3290 10:00-18:00(GMT+9) closed on Tuesdays
Email:ticket@rugby-japan.or.jp